Nouveau CD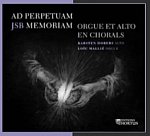 Loïc MALLIE

- Prochain concert -

Colloques
| | |
| --- | --- |
| Liste | |
---

---

| | |
| --- | --- |
| | Attention : en raison des contraintes sanitaires en vigueur, de nombreux concerts sont annulés. |
---
| | |
| --- | --- |
| Samedi 26 Mars 2022 -> Dimanche 27 Mars | --- |
| | | | | |
| --- | --- | --- | --- | --- |
| | 14:00 | Amsterdam (Pays-Bas) - Orgelpark | plan | (1) |

Echo - European Symposium

What audience in the 21st century?


Experts in the fields of opera and visual arts (Cathy Milliken, Hannah Griffith, Carsten Seiffarth) will share their ideas regarding the shift from working for the audience to working with it. Organ music experts from different European regions will discuss their experiences in reaching out to schoolchildren, to teens, to citizens from cultures outside Europe, and other audiences not used to organ music (speakers include, among many others, Lydia Vroegindeweij, Veerle Spronck, Annegret Schönbeck, Joao Vaz, Yves Rechsteiner). In the context of the latter, the issue of 'cultural rights' will be also be addressed: The Fribourg Charter of Cultural Rights states that every human being has the right to take part in cultural life.

The symposium program also includes music of course.

On 26 March, five famous organists will improvise on the Orgelpark organs: Catalina Vicens, Zuzana Ferjencikova, Jacob Lekkerkerker, Maurits Bunt, and Thomas Ospital.

On 27 March, Jonathan and Tom Scott ('The Scott Brothers') will give a concert developed specifically for family audiences.



---